We all know that Instagram has become the "go-to" social media platform, where over 300 million users share their photos, videos, and stories from anywhere at any time. However, Instagram is more than just an app that makes you jealous of your friend's vacation or food photos, the benefits of Instagram for businesses are actually far more reaching.
Think about the variety of products and services you have come across on your Instagram. These are likely Instagram paid social media ads or business profiles, that you follow, or friends and influencers you follow, tagging brands you've never heard of in their posts.
Instagram is a great tool for following trends and connecting friends, but now it can be used to connect with the most important people, your customers. Businesses should be aware that the creation, maintenance and management of an Instagram account takes dedicated time and effort. Careful consideration is required to ensure that your Instagram account generates followers, interest, likes and connections but also drives sales. Instagram currently brings less competition and more engaged audiences than some of the other social media giants like Facebook or Twitter.
For many industries, not including Instagram in your buyer journey, could have a serious affect in your ability to reach new customers. Once you have an established following, you will see the engagement and the results. To maximise Instagram, you do not to be an enterprise-sized company because the app enables you as a small business to compete with the "big guys."
If you're not using Instagram for your business yet, you are missing out on opportunities that are literally at your fingertips.
So, whether your strategy needs to be updated or you are a newcomer to the idea of social media marketing, you'll find these tips on how to maximise Instagram for your business helpful:
Let's start with your profile:
Write a captivating bio
When looking at brands online you have less than a second for someone to form an opinion, meaning it is so important to make a good, lasting first impression with the content of your Instagram profile and bio.
Your bio is likely to be the first thing people see when clicking on your Instagram profile. It will also influence whether they decide to follow you, go through your feed or click through to your website.
An Instagram bio should include:
An explanation about you / your brand
It should appeal to your target audience
Make use of your brand tone and voice
Include a link
Your Instagram bio is the only place where you can include a clickable link.
This is prime real estate!
Ideas of possible links include:
A link to your website homepage.
A link to any campaign-specific landing pages
A link to drive traffic to your latest pieces of content, such as a monthly blog.
Create an Instagram Business profile
When creating your profile select the Business profile option as it offers business tools that the normal profile does not have access to, in terms of understanding followers and growing your businesses on Instagram.
A business profile will also allow you to include additional information such as a phone number, an email address and your business's physical address.
Use a recognisable profile image
People need to instantly recognise your profile image; this means using one of the following options:
Logo
Logomark (the logo, minus any words)
Mascot
Then some business best practices:
Set goals
When making use of marketing channels it is essential to set goals.  As you are investing time and money into Instagram, you need to know what you want to achieve. For example:
Showcase your products or services
Build your community
Increase awareness
Broaden your advertising reach
Increase brand loyalty
Keep you community informed with news and updates
Be mindful of your colour palette
A new trend on Instagram involves the selection of a colour palette, which helps create a distinct style. An example is this Pink Instagram Theme By @creativeandcoffee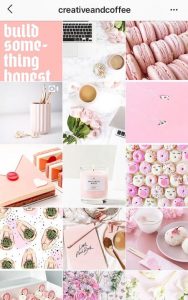 The best way to do this is use your brand colours!
Captions are gold!
Captions can be used in many different ways, such as short and sweet headlines, questions and conversation starters or even a microblog for story time. The options are endless but make sure they are in line with what is important is to ensure the copy is aligned with your brand.
Post constantly
Your publishing frequency has a direct impact on your engagement and your Instagram strategy should outline how many times a week you will post and at what times.
Analyse your most successful posts
It's important to know what's working and what's not working for your brand on Instagram. This is where business tools on your Instagram analytics will help you look at information like:
Which posts are getting the most likes
How the number of posts you share can influence your engagement
Content that generates comments
Respond to comments and DM's (Direct Messages)
Responding and replying to comments and DM's helps build a strong community on Instagram. It is important to respond back to your followers to show that you are engaging with and listening to them.
Make use of ALL Instagram has to offer
For your marketing, make use of all that Instagram has to offer, such as IGTV, Instagram Reels, IntsaStories, Instagram Live, Highlights on your page, comments, shares, direct messages and of course HASHTAGS!
Instagram is continuously updating their app; it may seem impossible to stay on top of these trends, but play around with them and test them out, as it is a fun way to learn how to make the most of this platform in your marketing strategy.