St Francis Bay, Tuesday, June 12, 2023 – St Francis is a historic landmark for any 60s surfer who travelled up and down South Africa's gorgeous East Coast with a Volkswagen packed full of surfboards. Take a trip down memory lane with Dad for Father's Day this year (this Sunday, June 18). There are plenty of fun things to do, on and off the beach!
 For dads who still like to catch a wave, Seals is our most famous surf spot and the place to be. There's also the quiet haven at Oyster Bay only 20km to the west, and Humansdorp, the area's agricultural capital, lies north.
Indeed, St Francis is famous for much more than just its postcard setting and popular surf breaks. Wander through the beautiful canal system and Mediterranean-style homes, enjoy a delicious meal from one of our restaurants, drink in the scenery, or take part in one of the many sporting activities in the area.
Don't miss the outstanding St Francis Market featuring some 95 stalls selling the best home-made, hand-made, and home-grown goodies from our region, from biltong to fresh fruit and veg, gourmet hot dogs, pancakes, original art, wooden goods, collectables, clothing, art, jewellery, gifts and more.
This treasured St Francis Bay gathering is organised by a group of local ladies on the last Saturday of the month, with extra market dates over long weekends and the festive season, so head to the Village Green between 09h00 and 13h00 on Saturday, June 17, 2023. Well-behaved pets are welcome, but please keep them on a leash (visit https://stfrancismarket.co.za).
Seal Point lighthouse is another delight for families, nestled amongst the fynbos. Nearby, Oyster Bay features ancient fish traps – just ask any local to help you find them.
If Dad prefers a round of sticks, head to St Francis Links or the St Francis Golf Course for golf.  The Links offers accommodation too. Check out their Winter Special, or there's a delicious Father's Day lunch for day visitors (we'd book early to avoid disappointment).
Active dads are also welcome to sign up for any of these organised events taking place over the weekend, including:
Coastal cleanup (family friendly) – Seal Point Lighthouse, this Saturday, 17 June, 9h00 – 12h00
Canoe Champs – The Quays Restaurant, Thursday through Saturday, 15 – 17 June
Surfski Qualifier – St Francis Paddling Club, Thursday through Saturday, 15 – 17 June
St Francis Market – The Village Green, this Saturday (June 17, 2023), 09h00 – 13h00
St Francis Links Golf and Accommodation specials and a Father's Day lunch at St Francis Links, Sunday, 18 June, 12h00 onwards
Or, get the adrenalin pumping with a Tsitsikamma Canopy Tour, horse riding, or sand boarding trip. After a long day on the beach, try a SUP, canal or Kromme River cruise, or relax with a treatment at Bard'au , Lombardi Spa & Wellness Centre or the Hibiscus Health and Beauty Centre. Pop-In Beauty Bar in the heart of the village has well-priced treatments.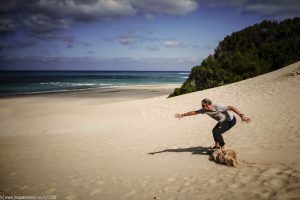 You can also stick with the Endless Summer theme by hiring a buggy from JBay Beach Buggy Rental. The company offers long-and short-term rentals for stays of a minimum of two days from R600.
If Dad is a live music and beer fanatic, St Francis Brewing Company is the perfect place to have a bit of fun with their Father's Day Woodstock themed dress up and live music show on Saturday, 17 June.
You can also visit https://www.stfrancistourism.co.za to find out about other upcoming events, sporting events, music festivals, fun runs and more. Our online directory is also packed with more suggestions for accommodation, restaurants, and activities, and contacts to edu-tourism and other important industries in our area. You can also download maps for St Francis, Oyster Bay, and Humansdorp so that you never miss an interesting turn.
And, if you do celebrate Father's Day with us this year, remember to share your memories from the day by tagging @stfrancistourism on Facebook or @St_Francis_Tourism on Instagram.