It is just over a month away for a South African first! The inaugural Global Team Horse Racing series (GTH) with the first event taking place on the 5th of August 2022.
After years of planning and trials, everything is finally coming together.
Tickets for the events will be available online via TIXSA from the 1st of July. If you cannot make it to the venue, don't stress, you will be able to follow all the action on SuperSport!
Watch the KwaZulu Royals take on the Gauteng Gijimaz at the first event of the series on the 5th August. The following week, the 12th of August, it will be the KwaZulu Royals going up against the Cape Stingers. The 19th of August will see the Cape Stingers take on the Gauteng Gijimaz and the combined results will determine who makes the final showdown on the 2nd of September.
The races will be called by two of horse racing's legends, Neil Andrews and Graeme Hawkins.
Neil has been a part of the SuperSport team since the outset and his knowledge, insights and humour have kept audiences entertained for years. He is also the anchor of the new revamped and relaunched Super Saturday's on SuperSport.
Graeme has had an involvement in horse racing his whole life as a punter, owner, bilingual race-caller, racing journalist, television presenter, auctioneer, track expert, race programme planner, pedigree researcher, marketer, salesman, administrator and that is why to many, he is known as Mr Racing!
The GTH team has been bolstered with the inclusion of three of South Africa's most popular presenters. Many a Gautenger will have ended their day with Alex Caige, who hosts 94.7's afternoon show, and he is joined by well-known Mzanzi actress, Hope Mbhele and multi-talented TV and radio presenter, and a passionate F1 speed crazy Kriya Gangiah. Tee Xaba, a multi-talented entertainer and East Coast Radio DJ will be the MC for the Live series.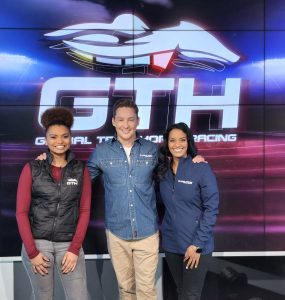 The series offers something for everyone, you don't need to be an ardent race going fanatic to sense the excitement. Choose and support your team and see who makes it to the final. GTH Team merch will be available to show your support. Ticket prices start at R100 for general access. Children under R14 are free. Gates open at 17h00 on a Friday, action starts at 18h00 and all condensed to finish by 20h30.
"This is action packed horse racing," enthuses Angus Campbell, GTH Marketing Director, "3 teams, 4 events and 1 final showdown, bring the family and enjoy an evening of concentrated excitement and entertainment."
For more information, visit the GTH website at www.gthracing.co.za.
Be part of the action!