Science is not about the stereotyped perception of lab coats but rather a world of innovation, problem solving and creativity.
The MAHLE Schools Challenge introduces learners to STEM (science, technology, engineering and mathematics) in a competitive and creative way opening up a whole new world of opportunity, fun and excitement.
On Saturday the 11th of March grade 7 learners from 11 Schools, presenting 15 teams, in the eThekwini area assembled for their first briefing that informed them of the objectives, requirements and judging criteria for the competition.
This multidisciplinary challenge teaches learners skills in leadership; collaboration with industry and business partners; entrepreneurship; teamwork and co-operation; citizenship; problem solving and communication as well as organisation and project management skills.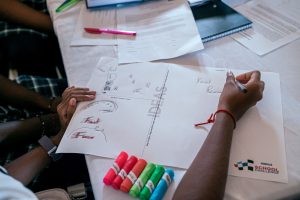 Teams consist of 6 members who are encouraged to use IT (CAD/CAM software) to create the most efficient design taking into account physics, aerodynamics, manufacture, branding and graphics. Each member of the team will have a responsibility that relates to a specific aspect of the team that includes leadership, manufacture, design and branding, sponsorship and marketing and these skills need to be applied in a cohesive manner to ensure that the team works together in creating the winning formula.
Teams will be judged on car speed, as well as supporting evidence of their design, verbal presentation and their marketing display stand in the "pits".
This is the third time that MAHLE, the automotive component manufacturer, has hosted this event, with the previous competition taking place in 2019 and 2022.
"The interest in STEM that this competition inspires in our youth is extraordinary and it offers an opportunity to learners, who may not normally have access to the disciplines required, to demonstrate their creative skills in a fun and competitive manner," says Jolene Van Heerden, Communications Manager for MAHLE Behr South Africa (Pty) Ltd.
The Race Day finals take place at Hillcrest Primary School on the 31st of August and the 1st of September. This is a day full of excitement and good-natured rivalry as teams vie for an assortment of prizes, which include prize money for the winning primary school. Other prizes include trophies, medals, automotive and tech gear tog bags as well as headphones and stationery.
The Cars are built using 160gsm cardboard and designed using the freeware program, 'Silhouette Studio', for which there is no cost.
"We aim to continue introducing fun projects in an effort to unlock the youth to love and appreciate Maths and Science," says Van Heerden.
MAHLE, one of the largest automotive component manufacturers in the world has committed to creating a better future through investing in the youth and sparking innovation and identifying and nurturing engineering stars.
You can find out more about the MAHLE School's Challenge at https://mahle-f1schoolschallenge.co.za/